"We had such a gorgeous experience with Stephen and Jen from Ella+Friends!
They are very accomodating and caring people. We highly recommend their expertise when it comes to photographing your pet and providing a lovely end result. They are also very quick to remedy a situation and will always put the customer first. Lovely people. And we are very satisfied with our photos and their friendly-professional and caring approach to their customers. Thank you for making this process easy and enjoyable". Love Peter, Stacey and Pako Xox
"From a very long chat with Jenn about our lovely dog Latte to our actual photo shoot day with Steven.....every part of our experience with Ella+Friends was easy. Such fabulous people who have a true affinity with & love of all dogs! Our dog was 16 when we had his photos done, so that was a challenge for Steven. All went smoothly & we have truly the best memories captured of our dear Mr Latte hanging in our hallway. Latte left us in 2017 aged 17, but he greets us everyday just as he always did. Thank you Ella+Friends". Leesa Cook
"From the moment we spoke to the guys at Ella+Friends we knew we were in great hands. The shot was fun and Stephen had so many great ideas. He was patient (which was so important) as sometimes the kids and Archie got distracted. The images turned out better than we could have ever imagined!
We are so lucky to have had this experience" Sarah Hassan
"Thank you to the team at Ella+Friends for a great photo shoot for the upcoming WOOF book – Sydney and I had such a great time! Definitely recommend a photography session with you guys for your family, friends and pets- such a professional operation but makes it fun at the same time. Thanks again! X" Kate Rosewall
"My boys (Bodhi & Sonic) have been WOOF!ed. It was a fantastic day with amazing images as a result. I just LOVE your work. Thank you so much for everything." Britt Higgins
WOOF! is a series of hard-cover, coffee-table books celebrating the lives of WOOFers in and around Melbourne, Australia. We are now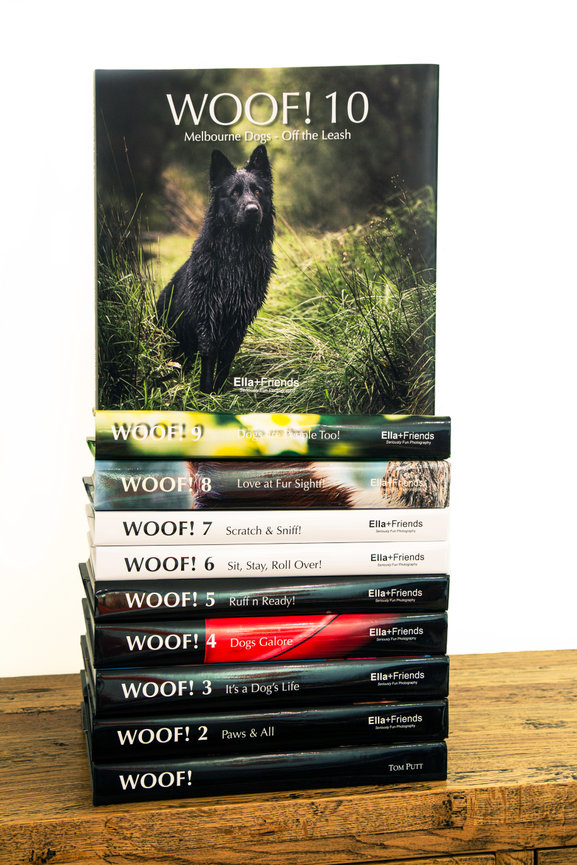 photographing for WOOF!11 – "Home is where my Dog is!"

Dog lovers will fall in love with the hundreds of gorgeous photographs of dogs doing what they love doing best. Whether it be eating, sleeping, chewing, playing, yawning, scratching…you can't help but love each of these unique WOOFers and the heart-warming stories that accompany each image.

Each edition is photographed between 12 and 18 months, and hundreds of hours are spent choosing the best images and then producing the high quality pages. (100+ shoots in each book).

We're sure you'll love each edition of WOOF! as much as we do!

Please Ph 9095 8200 or email studio@ellaandfriends.com.au to place an order.
JUST WHAT IS A SMASH! CAKE PHOTO SHOOT???
Your WOOFer celebrates their special birthday with a home-made, personalised dog cake – or smash cake – and a specially designed photoshoot to capture the celebration!
Click on the link or call 9095 8200 or email studio@ellaandfriends.com.au for more information.
Ella and Friends Photography - Family Dog Photography Melbourne.
Ella+Friends Photography is Melbourne's Number #1 Pet Portrait Photographers. We love dogs in particular and all own at least one! We love nothing more than meeting your pet and designing a unique photo shoot with you, to capture their gorgeous personality - to then show you all the stunning images in our purpose built theatre room.
8 Cass Ave, VIC, Croydon, 3136
"From a very long chat with Jenn about our lovely dog Latte to our actual photo shoot day with Steven.....every part of our experience with Ella+Friends was easy. Such fabulous people who have a true affinity with & love of all dogs! Our dog was 16 when we had his photos done, so that was a challenge for Steven. All went smoothly & we have truly the best memories captured of our dear Mr Latte hanging in our hallway. Latte left us in 2017 aged 17, but he greets us everyday just as he always did. Thank you Ella+Friends". Leesa Cook